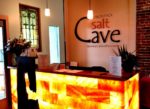 Long Business Description
We are a wellness center offering halotherapy (dry salt therapy) in Himalayan Salt Environment along with massage, shiatsu, reiki and esthetician services.
Union Square
11 Broad Street
Glens Falls, NY 12801
Hours of Operation:
Tuesday - Friday, 10 - 7
Saturday, 10 - 4

Long Business Description
Adirondack Health Institute is an independent, non-profit organization supporting hospitals, physician practices, behavioral health providers, community-based organizations, patients and others in our region to transform health care and improve population health.
Business Hours: Monday through Friday, 8 a.m. to 4 p.m.
100 Glen Street, Suite 1A
Glens Falls, NY 12801