Long Business Description
Built in 1911, The Park Theater is the premier entertainment venue located in the heart of downtown Glens Falls, NY. This century-old theater holds a vast and rich history within the community and has been recently revitalized as a destination for performing arts, weddings, events and more!
14 Park Street
Glens Falls, NY 12801

Long Business Description
Crandall Public Library offers about 350,000 reading, viewing, and listening materials (including digital formats); a Children's Library with several activity spaces; a Teen Center; computer and internet access; expansive educational, cultural, and literary programs for all ages; free meeting/program space for local non-profits; and a comfortable, accessible space in which to read, study, and socialize. The Folklife Center at Crandall Public Library offers programs, exhibits, and research related to cultural traditions of the region.
251 Glen Street, Glens Falls, NY 12801
Hours: Monday to Thursday, 9 am - 9 pm, Friday 9 am - 6 pm,  Saturday 9 am - 5 pm,  Sunday (mid-Sept – mid-June) 1 pm - 5 pm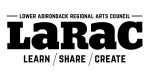 Long Business Description
Learn... Share... Create - Experience the Arts!
LARAC is a non-profit arts organization founded in 1972 to promote the arts and culture in our region. LARAC houses Lapham Gallery, a Gift Shop and administrative offices. The Gallery is a professional exhibit space that hosts 7 Art Exhibitions a year. The Gift Shop features over 70 local and regional artisans creating handmade products and gifts. LARAC hosts two arts festivals; June Arts Fest and Fall Arts Fest and has events and programs offered throughout the year.
7 Lapham Place, Glens Falls, NY 12801
Hours of Operation:
Shop and Gallery: 10am-3pm, Tuesday-Saturday
Office: 10am-4pm, Monday-Friday