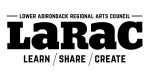 Long Business Description
Learn... Share... Create - Experience the Arts!
LARAC is a non-profit arts organization founded in 1972 to promote the arts and culture in our region. LARAC houses Lapham Gallery, a Gift Shop and administrative offices. The Gallery is a professional exhibit space that hosts 7 Art Exhibitions a year. The Gift Shop features over 70 local and regional artisans creating handmade products and gifts. LARAC hosts two arts festivals; June Arts Fest and Fall Arts Fest and has events and programs offered throughout the year.
7 Lapham Place, Glens Falls, NY 12801
Hours of Operation:
Shop and Gallery: 10am-3pm, Tuesday-Saturday
Office: 10am-4pm, Monday-Friday