Long Business Description
At Entertainment One Rentals we strive at making every event a memorable one. We have on hand consultants to help you through the booking process from what size tent you will need and all the little things that you may not have thought of. We know the challenge of planning any type of event or gathering from big or small. With an email or phone call we can get you started on creating the next big moment in your life.
We rent tents, tables, chairs, portable restrooms, party supplies, inflatables and more!
433 Lower Main Street, Hudson Falls, NY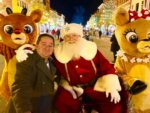 Long Business Description
I am fortunate to possess the spirit, love, and looks of the most recognized figure in the world, Santa Claus. I make people joyful and help them keep the spirit of Christmas alive all year long. I began portraying Santa in 2013 at Albany lights in the Park after being asked by a friend and fellow Santa, Mel Deigel. I originally started portraying Santa with a theatrical beard, but realized I loved it so much that I grew my own Beard instead. I have been blessed to visit with children Locally at many events and locations through the years.