Click here to download a Dining Guide!
Photography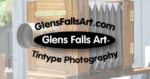 Long Business Description:
Have your portrait made the way President Abraham Lincoln did!
Experience Tintype Photography!
Glens Falls Art creates one-of-a-kind tintype portraits and scenics with the same process used during the Civil War. These images are made the same way 19th century photographers like Mathew Brady, Alexander Gardner, Seneca Ray Stoddard and others would have used.
Back then, photographers regularly traveled from town to town, making handmade portraits for people. Glens Falls Art mobile tintype studio travels in Glens Falls and beyond, bringing you the same wet plate collodion tintype experience.
• Arrange a Tintype Art Talk for your group or organization.
• Schedule your own tintype portrait session and create your family heirloom!
• Watch FREE, live demonstrations of this historic photographic process!
Long Business Description:
The Shirt Factory has been continually evolving since opening in 1999. Now it's home to 100 individuals who offer an eclectic mix of shops, services, classes and original art work.
Find a range of goods in the shops such as salt lamps, loose leaf tea, pottery, locally made food, reclaimed furniture and more. Artists work in many mediums including fiber, glass, precious metals, watercolors, pastels, photography, clay and wood. Other offerings include fitness classes, massage, acupuncture, children's activities, and a beauty salon.
While the building is open daily from 8-5, individual studios set their own schedule. Visit our website, ShirtFactoryGF.com for a current directory and full listing of hours. For the best experience, visit Thurs.-Sat., 12pm-5pm. Find us at 71 Lawrence Street & 21 Cooper Street, Glens Falls, NY 12801.
Wander our halls, discover our history, buy a gift, treat yourself, learn something new...Experience The Shirt Factory!
71 Lawrence Street | 21 Cooper Street
Glens Falls, NY 12801
Long Business Description:
Glens Falls Living is a modern lifestyle brand and media company dedicated to celebrating life in Hometown, USA - Glens Falls, NY - as well as the surrounding region. With a love for our city, we aim to curate and share the feel-good stories of Glens Falls through the voices of those who live, work, and recreate here. While celebrating its proud history, the primary focus will be on the excitement and energy of today and the promise and potential of the future. Much like the city, Glens Falls Living will be a friendly place to visit online, o ering an opportunity for readers to be inspired, learn something new about their neighbor, and fall in love with our hometown again and again.