Photography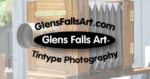 Have your portrait made the way President Abraham Lincoln did!
Experience Tintype Photography!
Glens Falls Art creates one-of-a-kind tintype portraits and scenics with the same process used during the Civil War. These images are made the same way 19th century photographers like Mathew Brady, Alexander Gardner, Seneca Ray Stoddard and others would have used.
Back then, photographers regularly traveled from town to town, making handmade portraits for people. Glens Falls Art mobile tintype studio travels in Glens Falls and beyond, bringing you the same wet plate collodion tintype experience.
• Arrange a Tintype Art Talk for your group or organization.
• Schedule your own tintype portrait session and create your family heirloom!
• Watch FREE, live demonstrations of this historic photographic process!
The building is open 7 days a week, 8am-5pm. Hours for individual studios vary, check our website for current information
The Shirt Factory, once a renowned maker of shirts and dresses, is now home to over 70 studios offering a variety of products and services.  Loose leaf tea, acupuncture, framing, ceramics, clothing, baked goods, original artwork, yoga, salt lamps, fiber arts, yarn, martial arts, photography and, jewelry, are just a few of the things found here.  Individual hours and availability vary, check our website to discover upcoming events and classes as well as a complete listing of all current tenants and their availability.
71 Lawrence Street | 21 Cooper Street
Glens Falls, NY 12801
Eric Unkauf