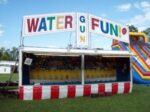 Long Business Description
We provide Amusement Rides, Games & Food Concessions.
We are a family run business. We have been in business for over 30 years. We play a number of events including Churches, Fireman Field Days, Town Celebrations, Fairs and Festivals.
We have added a big Slide. It stands nearly 35' tall and is around 115' long. We have also installed LED lighting on most of the rides.
We recently added a couple of rides, a Zero Gravity and a Berry Go Round. We have also added a Mindwinder (swing type ride). ATM service is made available on the midway
We also offer concessions, games and food. We have a Cotton Candy trailer along with Fried Dough, Pretzels and Deep Fried Oreos.