Click here to download a Dining Guide!
Glens Falls Art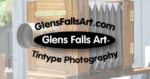 Business Name:
Glens Falls Art
Long Business Description:
Have your portrait made the way President Abraham Lincoln did!
Experience Tintype Photography!
Glens Falls Art creates one-of-a-kind tintype portraits and scenics with the same process used during the Civil War. These images are made the same way 19th century photographers like Mathew Brady, Alexander Gardner, Seneca Ray Stoddard and others would have used.
Back then, photographers regularly traveled from town to town, making handmade portraits for people. Glens Falls Art mobile tintype studio travels in Glens Falls and beyond, bringing you the same wet plate collodion tintype experience.
• Arrange a Tintype Art Talk for your group or organization.
• Schedule your own tintype portrait session and create your family heirloom!
• Watch FREE, live demonstrations of this historic photographic process!