Click here to download a Dining Guide!
Adirondack Etching LLC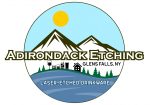 Business Name:
Adirondack Etching LLC
Long Business Description:
Adirondack Etching designs and manufactures laser-etched drinkware. We specialize in personalized and custom work for businesses, weddings and gifts.
Glens Falls native and owner Larry Gonyea Jr. has inventory that includes themes of local interest. He also enjoys coming up with more personal designs that charm, congratulate, celebrate or commemorate.