Lake George Olive Oil Co.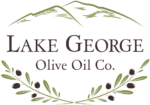 Lake George Olive Oil Co.
We are a family-owned business offering only the freshest extra virgin olive oils and highest quality aged balsamic vinegars from around the world! Take your palate on a delicious journey as you sample flavors like Tuscan Herb, Chipotle or Fresh Basil Olive Oil and Dark Chocolate, Pomegranate, or Sicilian Lemon Balsamic — just to name a few. Come sample from more than 50 varieties!
179 Glen Street
Glens Falls, NY 12801
Hours:
Open Tues.-Thurs. 11-5
Fri.-Sat. 11-6
Sun. 11-5