health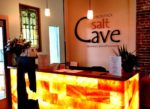 Adirondack Salt Cave is a holistic healing arts center located in downtown Glens Falls, New York in the Historic Union Square Building. Our "Salt Cave" is the first and only Halotherapy Center (dry salt therapy) in the North Country.
In addition to Halotherapy, our services include Massage, Reiki, and Esthetician Services provided by our team of professional, qualified practitioners.
Union Square
11 Broad Street
Glens Falls, NY 12801
Hours of Operation:
Tuesday - Friday, 10 - 7
Saturday, 10 - 4
The Mission of the Warren-Washington Association for Mental Health, Inc. (WWAMH) is to improve the quality of life for those affected by mental illness and to promote the awareness and importance of mental wellbeing in the community. WWAMH has programs in both Warren and Washington counties.
3043 State Route 4
Hudson Falls, NY 12839
Contact: Nicole Casey
Whether we've faced it ourselves, or someone we love has, almost everyone has been affected by breast cancer in some way. But at the same time, we can all do something about it. By joining the Adirondack's Making Strides Against Breast Cancer event, you're helping the American Cancer Society make a difference in so many ways, from funding innovative breast cancer research to simply providing a hand to hold.
1 Penny Lane
Latham, NY 12110